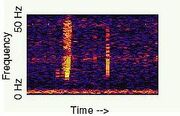 The
Bloop
is the name given to an ultra-low frequency and extremely powerful underwater sound detected by the U.S. National Oceanic and Atmospheric administration several times during the summer of 1997. The source of the sound remains unknown.
Related:
Ad blocker interference detected!
Wikia is a free-to-use site that makes money from advertising. We have a modified experience for viewers using ad blockers

Wikia is not accessible if you've made further modifications. Remove the custom ad blocker rule(s) and the page will load as expected.